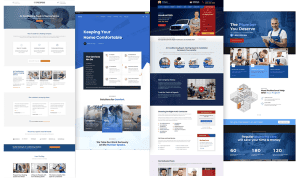 Are you a dental professional in New Jersey hoping to achieve more visibility and draw in additional patients? Google Ads can be an effective tool for promoting your practice and differentiating yourself from other competitors. By combining the correct mixture of keywords and targeting, you can fine-tune your ads to reach potential customers within NJ who are proactively seeking a dentist. This guide will assist you in maximizing your investment and getting the best out of your dental advertising strategy in New Jersey regardless if you're just starting with Google Ads or already have campaigns running.
Benefits of Google Ads for NJ Dentists
Google Ads, otherwise known as Pay Per Click (PPC) advertising, is a highly effective way for NJ dentists to expand their practice and acquire more patients. By managing a Google Ads campaign, dental offices in New Jersey can zero in on potential customers who are already searching for what they offer. Not only does this type of marketing provide the chance to directly target these people with ads that appear at the top of search engine results pages (SERPs), it also presents many advantages over traditional forms of promotion such as television or radio advertisements.
For starters, Google Ads permits you to0 exactly manage your budget and desired audience. You can set a daily spending limit and have commercials show exclusively in areas where you have practices or serve clients. Additionally, you can craft customized campaigns that focus on particular services or treatments provided by your clinic like orthodontic treatments or cosmetic dentistry services. This level of accuracy helps ensure that your ad dollars are being used efficiently on reaching the correct individuals who need the services you give.
In addition to targeting exact geographic locations and customer categories, Google Ads grants detailed analytics so that NJ dentists can track the showing of their campaigns instantly. This incorporates observing impressions, clicks, conversions (when somebody takes action after viewing an advert), cost per click (CPC) – how much is paid out for each click – together with other significant metrics like return on investment (ROI). By using this data-driven approach to advertising , NJ dentists get an improved comprehension of which keywords generate interest from potential patients so they know where to focus their efforts when forming new campaigns or optimizing existing ones for higher ROI outcomes .
Finally, due to the fact that it's possible to adjust bids based on seasonality trends, holidays or special events throughout the year; NJ dentists receive greater freedom when conducting Google Ads initiatives compared with other types of conventional marketing like print ads which generally require extensive lead times before they become successful at generating fresh business prospects. Moreover because digital channels permit direct interaction with prospective customers via email newsletters and other content-based approaches; dental practices in New Jersey gain from having additional touch points with leads than ever before – raising chances for conversions into paying customers which will eventually result in increased profits over time!
Advantages of Dental Ads for Patients in New Jersey
Google Ads in New Jersey offer dentists an effective way to boost the reach of their advertising campaigns. These ads provide a convenient method for targeting potential customers, as they are tailored to their needs and preferences. This makes it easy for them to locate new patients and better engage with existing ones.
For people living in NJ, dental ads can be very beneficial because they enhance awareness about available services, as well as educate them on how these services can benefit them. Through such advertisements, dentists provide valuable information about treatments like procedures offered, insurance coverage options, length of each procedure etc., which helps create a more favorable customer experience overall.
Furthermore, dentist offices have begun using Google Ads specifically designed for local areas so that prospective customers will know where they are located and how easy it is to access their practice when needed. The use of targeted SERPs (Search Engine Results Pages) allows these practices to increase visibility within certain communities by ensuring those who search locally see their office first before seeing other results from around the world wide web – this increases both foot traffic and online bookings while also promoting loyalty among existing clients while still giving those wishing explore treatment alternatives without having travel far away a chance do so .
How to Maximize Reach with Dental NJ Ads
Advertising plays a key role in any thriving venture. When it comes to marketing dental services, targeting the right individuals is critical. That's why NJ dental advertising campaigns are so important. They provide an avenue to target potential clients residing in or around your business location who may be likely to utilize your offerings. So how can you extend reach with these ads? Here are some tips that will help you make the most of your NJ dental campaigns:
Begin by aiming at people living nearby your office . This helps guarantee that you're focusing on prospects more prone to visit physically or benefit from treatments provided at other close-by facilities . You can also consider geo-targeting options which let you pinpoint certain areas within a given proximity of your establishment and even narrow down even further based on parameters such as age and gender .
Making use of multiple ad formats like text, display, audio and video is another great way to maximize impact with NJ dental advertisements. Each type provides an opportunity for communicating different messages or providing distinct perks depending on what service customers need from your practice For example, if patients seek cosmetic dentistry then an audio advert could be best since it lets them hear directly about the procedure & benefits involved compared to displaying written content online which may be too much info for some readers
Finally take advantage of social platforms like Facebook & Instagram for targeted campaigns plus organic posts directed towards increasing recognition about what's offered at your practice and promotions running currently Additionally ,these networks give invaluable insights into user behavior which can help tailor strategies better towards desired audiences
Understanding the Basics of Google Ads for Dentists in New Jersey
By setting up a Google Ads account, dentists in New Jersey can easily make their business more visible to potential customers. Formerly known as AdWords, this online advertising tool allows businesses to tailor their campaigns according to geography, age group, gender and other interests related to dentistry. To maximize the success of these ads, it is important that appropriate keywords are chosen which are relevant to the services or products being offered. By tracking clicks, impressions (number of times an ad appears), cost per click (amount paid each time someone clicks on an ad) and conversions (how many people take action after clicking on an ad), businesses can adjust budgets accordingly and consider remarketing or display ads for even better results. With these tips in mind, creating effective online marketing strategies with minimal effort is achievable!
Strategies & Tactics to Improve ROI from Dental Ads in NJ
Advertising your dental practice with Google Ads can be a great way to boost your Return On Investment in the Garden State. To maximize ROI, there are a few strategies and tactics you should follow. Primarily, make sure that you target individuals who live in NJ, have potential use for dental services, and have higher disposable incomes than usual. This will guarantee an influx of customers or leads when they click on your ad.
Alongside targeting the right audience, it is essential to write compelling copy which includes customer testimonials and benefits of using your service if available. Doing this will help create trust before they even visit the website thus increasing conversions once they do land on it.
In addition to creating effective text for each ad campaign, tracking tools such as Google Analytics must be utilized so you can observe metrics like impressions, clicks CPCs etc., allowing you to pinpoint trends over time resulting in greater ROI from these campaigns eventually..
Finally when budgeting for future advertising efforts within New Jersey through Google Ads , one must factor in all calculated metrics regarding ROI so precise goals can be achieved instead of random numbers being set without any real idea about how successful campaigns actually were during certain periods of time."
Conclusion
In conclusion, utilizing the power of Google Ads for Dentists in New Jersey can be an effective tool to increase a dental practice's visibility and draw in new patients. By targeting local phrases and creating ads that are specific to NJ, dentists will have greater success reaching their desired target market. When carefully crafted and planned out, this form of advertisement may prove beneficial for any dentist situated in the Garden State.
Give us a call (516) 418-6310! We are the premier Google Ads providers of unmatched services, and we're here to make your life simpler. Our expeditious customer service guarantees a wonderful experience with us. Our staff is devoted to giving you the best achievable solutions for all your needs. We have an extensive selection of offerings and services tailored particularly for your requirements as well as unbeatable prices.